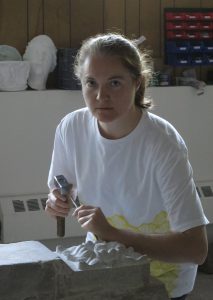 Born and raised in Minnesota, Bethany holds a BA in sculpture ('03) from the University of Dallas. She currently studies in the drawing and painting program at the Florence Academy of Art in Jersey City ('19). Her work encompasses a variety of materials with a focus on watercolor landscapes and cast materials.
It is of note that the artist has enjoyed the unmerited support and generosity of her family – support without which her artistic endeavors would not be possible.
When not working in the studio, Bethany enjoys singing polyphony and spending time with her neice and nephew.