Gooey Paste and the Kindness of Strangers
It's Monday morning. I had intended to write this blog post on Saturday evening as a way to wrap up the week. However, sales at Union Square were going pretty well, so I stayed late.
I had always heard of the artists selling at Union Square. In fact, my first New York street peddling experience was across the street from Union Square on a chilly February day. I froze. Everyone ignored me. It was like baptism by ice. So, on Saturday, I decided to do it again. I went out early in the morning in search of the artists. A couple of artist vendors showed up, so I set up my easel near them.
All day, people walked by with their bags of vegetables from the nearby farmers market. There were tourists and loiterers too and even a drumming group and a crazy guy (maybe a performance artist or comedian?) running around in a Union Jack bathing suit, riding a tricyle, and shouting at people. Cars and trucks roared by – I was standing right at the curb. Lots of people stopped to talk and a few people purchased paintings. One man even bought me a some small weights for my easel after seeing it blow over while I was talking to a customer. (He was actually that customer.)
Here are the two paintings from my Union Square day: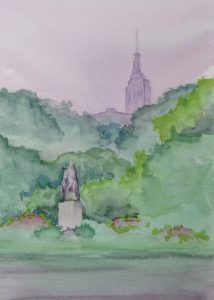 Union Square View from the South, 5″x7″ Watercolor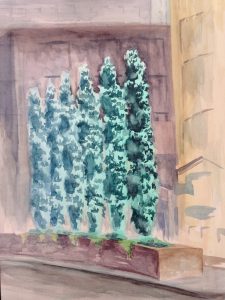 Median Trees, 9″x12″ Watercolor

One of the other highlights from the week was painting at the Elizabeth Street Gardens. This is an enclosed, semi-private garden in Soho. It is run by volunteers and open to the public in the afternoons. It is crammed with the most interesting architectural artifacts, flowers and trees. People lounge around reading books or eating lunch.
Here is my Elizabeth Street Gardens painting as well as a painting of another enclosed garden nearby.
Golden Swan Garden, Greenwich Village, 5″x7″ Watercolor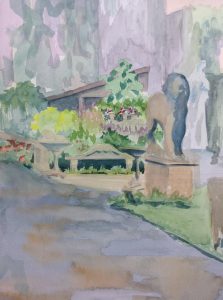 Elizabeth St. Gardens from the East, 9″x12″ Watercolor
I also cast my first sculpture. It was messy. Very messy. Instead of my usual blanket mold, I did a 2-part mold, and instead of using concrete, I used Aqua Resin. So, of course, I didn't know what I was doing and made a big mess. Imagine trying to make a plaster cast on the inside of a non-stick frying pan that is being held upside down. BUT, a finished 3-D piece did come out of the process. It has blemishes and deformations, but it is a finished piece. I call it Climbing Tree.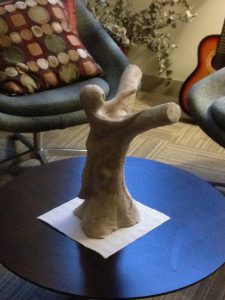 Climbing Tree, 18″ Aquaresin
For those of you who read my post last week, I was having problems deciding whether to go with abstraction or simplification in sculpting the human figure. I went with simplification. After experimenting with abstraction (and embellishment), I realized that the important thing in this piece is the overall gesture. It's a figure climbing a tree with a certain gesture/movement. That is the image I want to make. It does not need a lot of detail. So I simplified it considerably and went on with the mold making.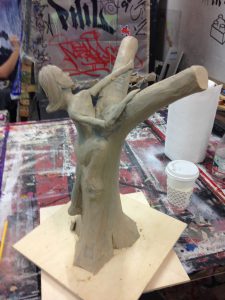 Experimenting with Naturalism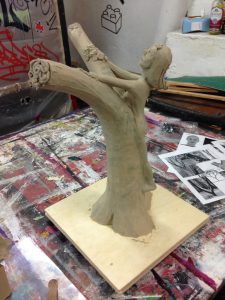 Experimenting with Abstraction/Embellishment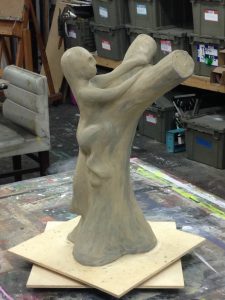 Settling on Simplification
And, lastly, Sunflower, my Sheen Center Residency mascot is growing apace. Two of his brethren have been sacrificed for the good of the tribe.