The Cemetery at San Miniato
Last week, I visited "all the sculptors working in Florence." Obviously, I didn't visit ALL of them, but I had a list, and I worked through it, and I feel full of information. So, for my last few days in Florence, I'm visiting a few important places where there are beautiful, memorable, inspiring sculptures by sculptors who are no longer living.
Yesterday, on Jason Arkles' recommendation, I went to Parco della Rimembranza – the cemetery at San Miniato in Monte. San Miniato is a smallish, gorgeous church on a high hill on the outskirts of the historic center of Florence. The steep road and many flights of staircases taken to get there makes visiting it feel like a pilgrimage. Outside and all around the colored marble clad church is a cemetery. The church was built in the 1000's AD, but the cemetery is new, from the 1800's. In fact, a few familiar names are in it. The Zeffirelli family has a plot (As in, Franco Zeffirelli). Romano Romanelli, sculptor at the Romanelli studio which I mentioned in a previous blog post is also buried there.
When I was a kid in the midwest, there was a cemetery next to my school. It had rows of granite tombstones with names and dates all in straight rows and surrounded by grass. That is not what this looked like. There's no grass and is built on multiple levels. The dead are buried in the ground, in walls, and in mausoleums. No two grave markers are the same. And – the reason I'm here – many of them boast statuary and/or relief carving.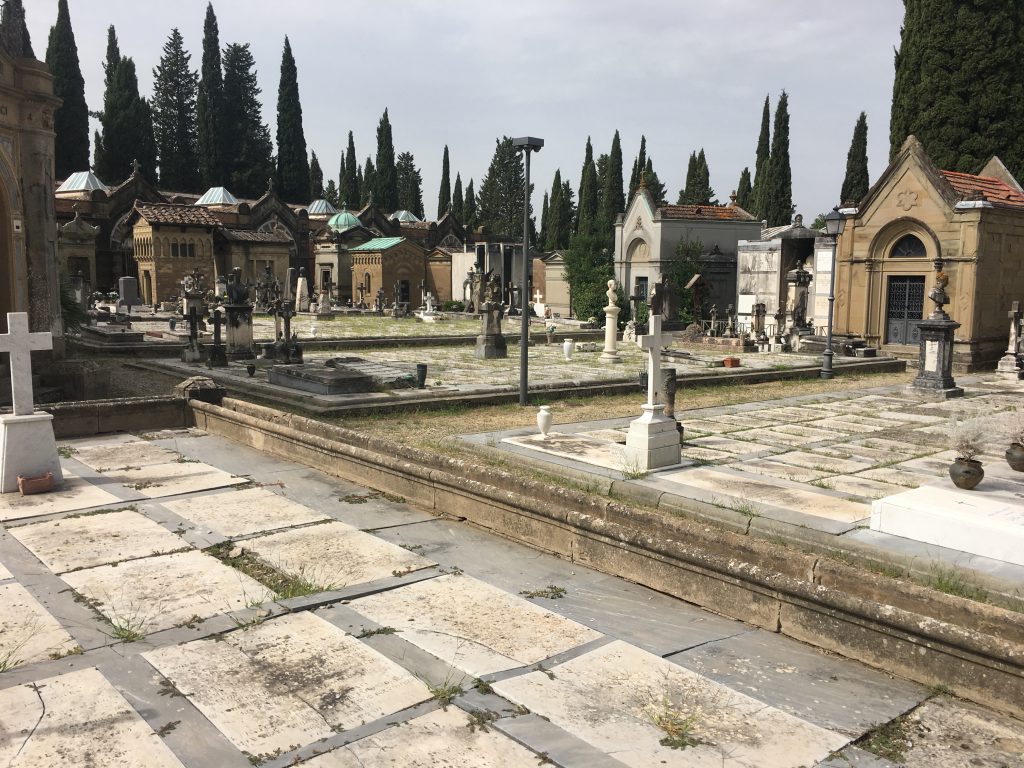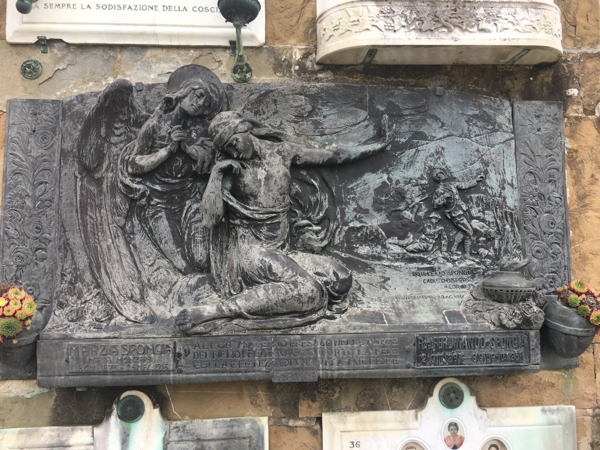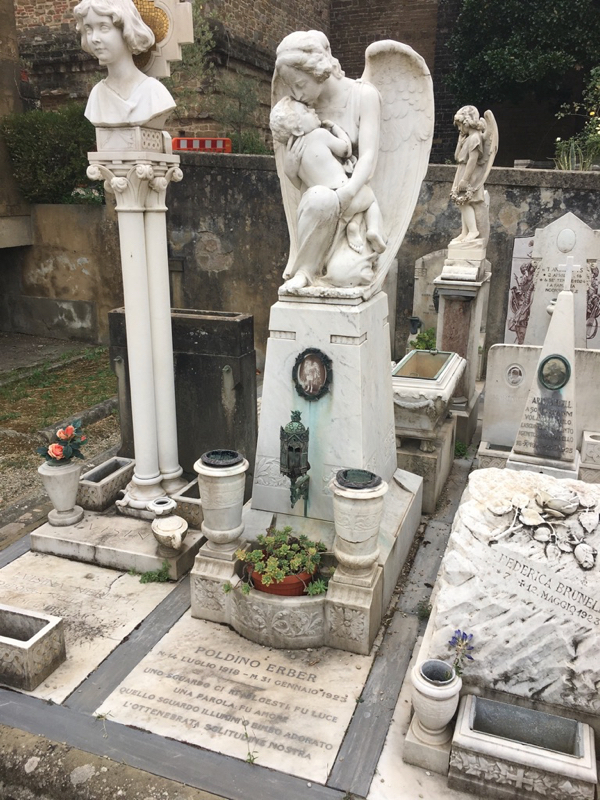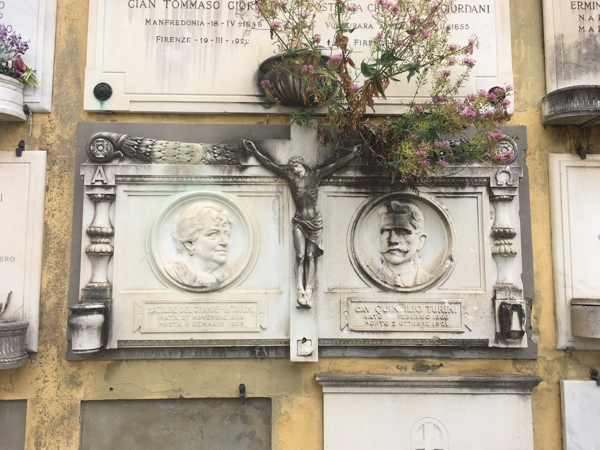 The thing that struck me about the sculpture incorporated into the place was that it was precisely that: incorporated. The point of the place was not the sculpture. The point was the grave marker. The person buried there. And, some of the grave plots were quite recent. They had fresh flowers. Someone living obviously actively remembered the dead. So, in addition to being not about the sculpture, the place was not exactly public. It was more like a private house that allowed visitors if they were quiet and didn't touch anything. I felt a little like an intruder.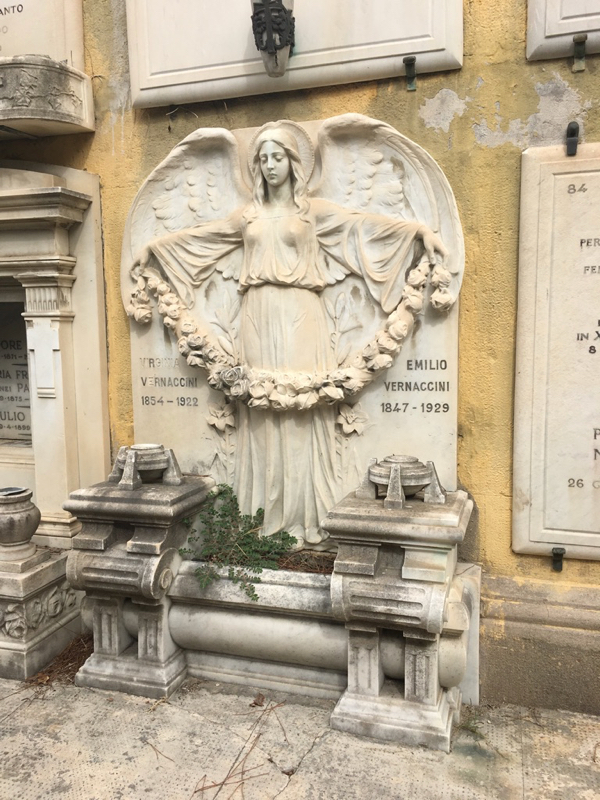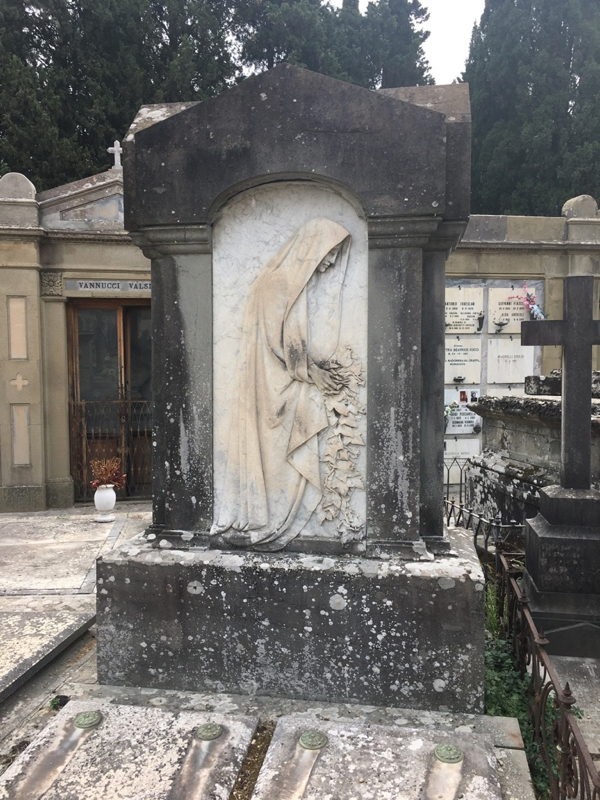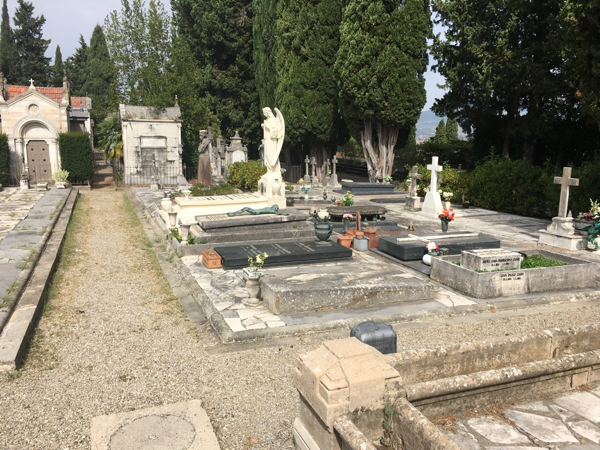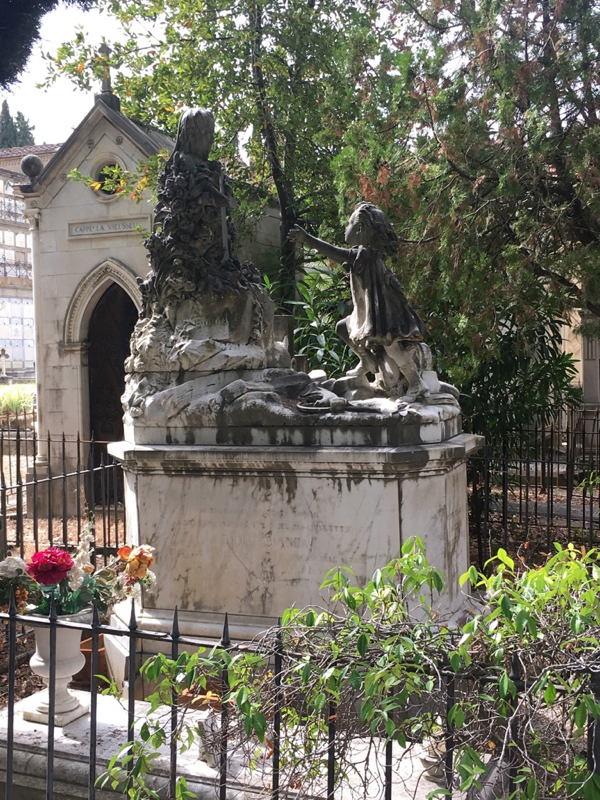 As Jason later said, it is "sculpture in service of something." I think some of the sculptures were signed, but I can think of only one signature I noticed, and I couldn't read it. There was no little plaque saying "so-and-so made this." But, though anonymous, the work was good. My conjecture is that it's mostly typical 19th century sculpture. Probably made by run-of-the-mill sculptors who had studied at some national academy and had work but not much of a name for themselves. I think it's kind of beautiful that there was a culture and sufficient community of sculptors for this kind of sculpture market.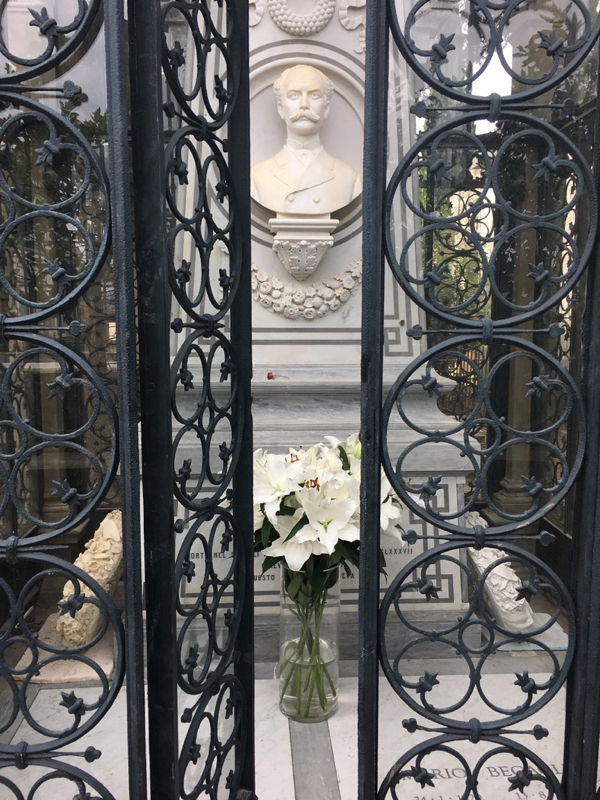 The sculptures and relief carvings were incorporated, as I stated, into the monuments. There were a lot of portrait busts. (Unfortunately, I didn't get any good pictures of those – I was too busy looking to remember to take pictures!) There were also a good number of free-standing sculptures. Some of these were of the deceased, some allegorical, some multi-figure. All the portraits and figures were, however, in a *setting.* They were on a monument, integrated with decorative carving, on a wall plaque, or in a mausoleum. Some of the sculptures were in stone, some in bronze.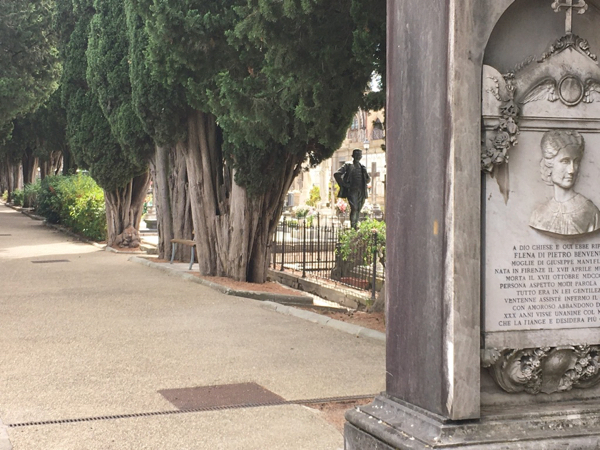 And, each monument was unique. No two alike. That was powerful too. There was a personal sense to each – like the person buried there. No two alike.
So, what do I take away from this? It wasn't the technical ability that impressed me here. Although, there was nothing particularly deficient in the technique. I think what I take away from this is to just work. These sculptors were workers. The people who commissioned these monuments are the ones who made them. The sculptors just helped. And, they weren't the only ones who helped. There were architects and blacksmiths and masons and several different kinds of sculptors. So, just work. Work, work with other people and work for other people. Where there is a need and where there is community, something beautiful will happen.
And, in honor of the dead for whom the monuments were there in the first place:
Eternal rest grant unto them, O Lord…