Visit to Simon Smith's Carving Studio in London
My brother (https://startupandrew.com/) recently moved to London, and I went to visit him for a week. While there, I tried to visit the City and Guild School in London (https://www.cityandguildsartschool.ac.uk/). The school trains stone and wood carvers, conservationists, and other workers in traditional arts.
In the process of looking for the school's visiting hours, I found a link to the website of Simon Smith (http://simonsmithstonecarving.com/), an accomplished stone carver with many public monuments to his name and a studio in London. So, I emailed him to ask for a studio visit – without really expecting him to answer. But, he did and said I could come the next day!
It was a 45 minute bus trip to his studio from the heart of London. The neighborhood looked like the kind of place artists could find cheap studio space – complete with an old, well-worn church and a quirky little coffee shop on the corner.
(Funny little side story: Arriving early, I wandered into the church, and saw a young man with a dog on his lap, sitting in the sanctuary, chanting morning prayer, all by himself. Both the dog and the man sat still, in profile to me, in the otherwise quiet church. I sat and listened for some time, then checked out the cute, little coffee shop.)
Arriving at the address Simon had sent, there was no visible carving studio, just an alley with a row of apartment buildings on one side and an irregular metal fence on the other. Fortunately, a woman sees me through a crack in the wall.
"Can I help you?" She asks.
"I'm looking for Simon Smith."
"Ah," she smiles, opening a door in the wall and ushering me into a gravel courtyard surrounded by small, industrial-looking buildings with stone slabs in various colors and sizes leaning against the walls. Out of one of the entryways steps a bearded man in work clothes. Simon introduces himself and ushers me into a low building with big doors, filled with plaster casts of figures and decorative elements. Here he is in his studio: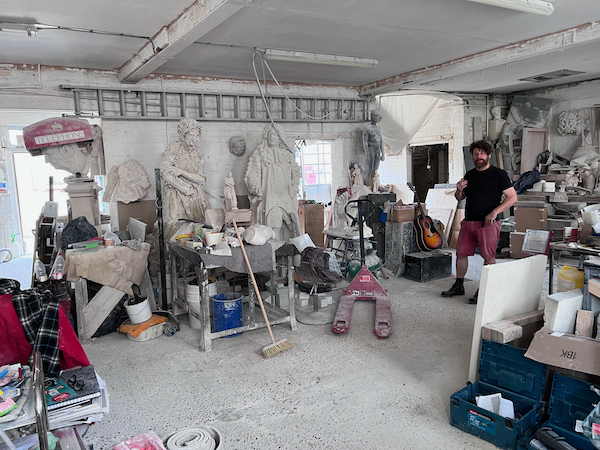 Simon offers me a cup of tea and makes one for himself. Another man, also bearded and in work clothes, comes in. This is Philip Surey (https://www.philipsurey.co.uk/), Simon's studio mate, a stone carver whose specialty is letter carving. 
They tell me about their backgrounds. Simon began as a stone mason, Philip in the sign-making business. Both enrolled in the City and Guild School at around the same time, a few decades ago. Simon taught at the school for a few years after graduation, and Philip currently teaches there.
Philip shows me one of his current projects – a slate gravestone with a botanical design and carved lettering.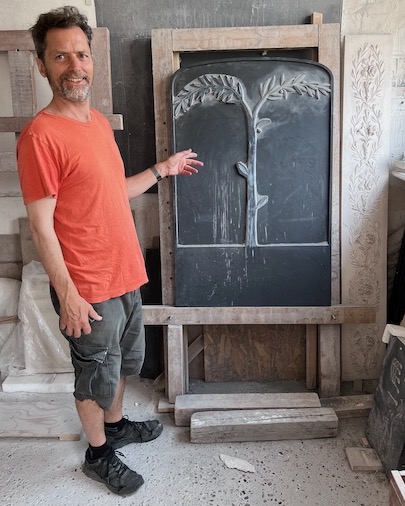 We talk about the stone carving business, specifically about use of machines in the stone carving industry and its impact on traditional carvers. Here's an example of this impact: Philip has ordered the slate for this grave stone precut in a rounded, rectangular shape with a raised border on the front surface. He will hand-carve only the lettering and the decorative motif. At the beginning of his career, he would have ordered a plain slab and carved its shape and border himself. He is matter-of-fact about the change, however, without apparent preference either for the old or for the new way of working.

Simon then shows me around his studio. The current works-in-progress are some architectural elements for a restoration project and a portrait bust. These projects do not, however, show the wide range of his skills. The portfolio on his website includes a variety of public monuments, ornamental (decorative) carvings, restoration projects, and original work produced for gallery settings. One of my favorites is a gargoyle on Westminster Abbey which he carved as part of a restoration project on the chapter house.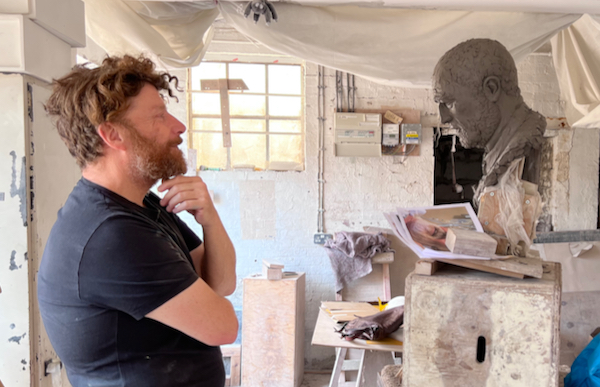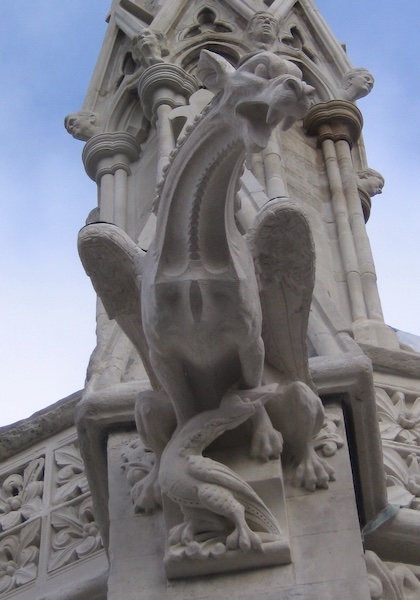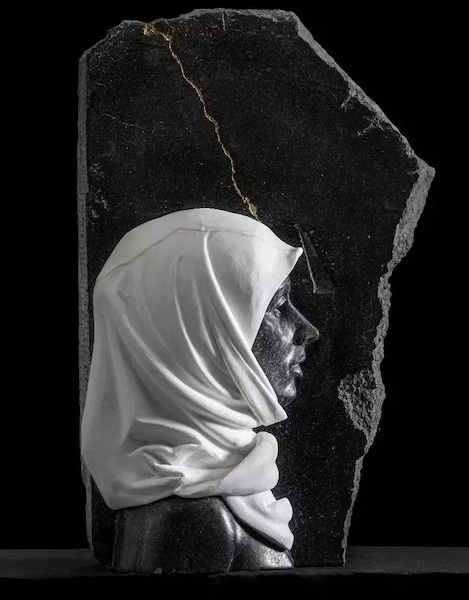 He typically works alone, but sometime employs apprentices on large projects. He's a traditional carver in the sense of not using computerized carving machines, but he's not a purist in the sense that he uses a combination of hand and air tools. His main focus is simply making a good finished sculpture – as long as it looks right, he's happy.
It was great to see carvers working so calmly, steadily, and peacefully. Simon and Philip appeared to me as happy craftsmen/artists, doing beautiful work but not stressing about it or about the future of the craft. I'm so grateful for their hospitality, time, and inspirational presence!